Am I Transgender? | Part 2: Separation and Denial
Am I Transgender | Series Introduction
Many would think that because I was living as a male that the girl in the cage would be hyper-feminine. In many ways, yes, but she was also aggressive, unhappy, and quite aware of her free-flowing sexuality. Unlike me, she was courageous, confident and self-assured of who she was, but she accepted that she would be locked away forever. I was in denial, and so very unaware…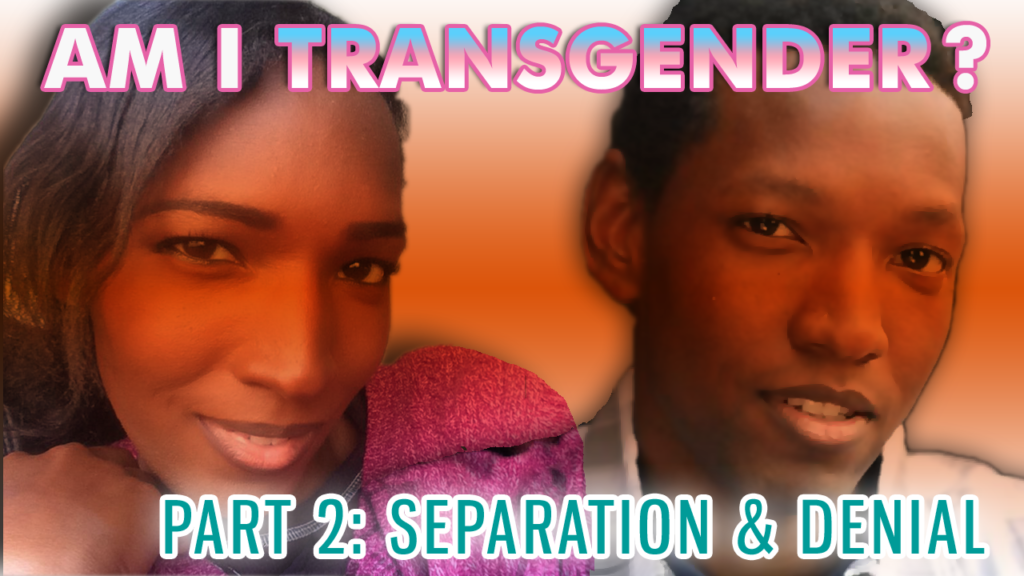 She deserved a name. Renai. A Japanese word that translates to "passionate love."
All four years of college was a constant separation and denial from Renai every time I engaged in ministry-focused activities. Society and, at the time, my Christian faith would have it no other way. I knew there would be no place for me in the church if I allowed myself to set her free. I also knew that despite having horrible luck with relationships, I would be hard-pressed to find a [Christian] female who would accept both "her" and me.
Speaking of females, I had very few females I could spend time with while living on campus. Cliques were even harder to penetrate than they were in high school, and any attempt for a male to engage females was immediately written off as romantic interest. This was especially true among Christian females. I felt like a stranger no matter which side I tried to fit into. With my time mostly spent studying, hiding in my room playing MMOs until the sun came up, or getting together with my small circle of male roommates/friends, I had no outlet for thoughtful, exposing conversation.
The one female I had entrusted to speak to about these unexplainable feelings of dysphoria immediately wrote it off as a phase, given my age (I was 18 at the time). That female was my Women's Studies professor. Go figure.
My four years of college could be summed up as a constant ripping and restitching of my spirit. On campus, I would question my faith constantly, hiding my gender turmoil while continuing to be involved with on-campus Christian ministry. Off campus at home, I would return to weekly church services while privately escaping into anime and my female MMO characters.
There was no one I knew who had seriously experienced anything close to what I was feeling. So, I simply just gave her a place to exist. Her feelings exploding onto a digital wall few would read, as I let her cry out for help into the void of the Internet. I graduated college with many questions and decisions to make. Most of them would be ignored for many more years.
2007 Post-college
My focus was to work as much as I could, and free my mother of the burden that was my presence. I still questioned, but I didn't allow myself any sort of real self-reflection or respite. I had adapted and submitted to my biology; that this was the body I had and there was no hope of getting around that. I had no knowledge of the term "transgender." I did, however, know about crossdressing and other related kinks, but they hardly felt right for me.
Late 2008
I was able to start doing amateur voice acting – a strong interest I had since my H.S. Junior year. My focus would remain on the masculine side of things in that area. However, I would find small opportunities to read for a more feminine or androgynous role, but those would be very rare.
During this period, I found out that one of my online friends, Val, identified as "transgender." She became my source of information and my first foray into the transgender narrative. Much of my very early coping methods to dysphoria were possible because she was in my life. I am forever grateful to her giving me so much of her time to answer my personal, prodding questions.
Cosplay was always another hobby I wanted to excel in. I had tried many times in the past to grow in it with little avail. As I oscillated between letting Renai get a chance to speak and not letting her speak at all for months at a time, I eventually found another means of self-expression in the pursuit of this art form and another outlet for Renai to breathe.
Summer/Fall 2011
I had just experienced a breakup that occurred early Summer. I had told my then girlfriend about Renai and crossplaying as female characters. She was not having any of it. I firmly believe this was beginning of the end for us.
While coping with her ending our relationship – a relationship I thought would put an end to my transgender questioning and to Renai – I arrived at a realization of just how little I loved myself. I had found small ways to keep my charisma decent for the sake of my sanity, but I truly did not love the person I saw in the mirror every day. Denial permeated my existence day after day. I loathed him, and thus, me. I was immensely miserable and uncomfortable with who society demanded I be. I was trapped.
Twice, I had put myself second for the sake of a relationship and both failed miserably at the mention of even crossdressing. The time and love I had sacrificed and bled for had been for nothing, leaving me an empty husk of a person for a year the first time it happened. If I could help it, I wouldn't let there be a third.
Late December 2011
Just a few days away from 2012 marked a turning point. My close friend, Murat, and I were starting to get traction on our small creative business venture, EtherFuture, and had some time to reflect together one evening. I had moved past my breakup and begun shedding the narrow views of Christianity for broader, more philosophical perspectives. He was still quietly reeling from his own and our perspectives on religion and philosophy were beginning to jive for probably the first time.
Our long, deep conversation that now define our friendship reached a pause. I stood up and walked to my mirror, stared at myself, and said something along the lines of:
"In 2012, I want to begin a self-exploration. Soul searching. To see if what I'm feeling inside – this girl – is real. If I can't love myself, who the hell is ever going to love me…? I'm so tired of constantly having my guard up. I hope…that one day…someone will tell me 'It's okay, you can let down your guard. I love you just the way you are.' "
I barely got the last words out before I broke down in tears in front of him.
---
Part 3 will focus on beginning my journey of self-exploration through the few years leading up to me coming out publicly. Renai was frequently ignored in the first half of my twenties. However, I will be sharing my scary, yet liberating experiences of how I learned to "just be", understanding how to love myself, and eventually traversing the painful road to acceptance of the neglected, passionate girl in the cage. Please look forward to it.
---
Have you ever experienced this kind of separation between genders? Was denial ever a part of your life? Did this post make you feel/remember anything? Tell me all about it in the Comments!

Also, please be sure to "Share" this post if you enjoyed it and "Subscribe" to be instantly notified as soon as a new entry goes live.
Follow me along my journey towards transgender visibility and acceptance on my Instagram + Twitter accounts as well as my YouTube channel where I share my thoughtful insights and advice about being transgender.
Thank you very much for reading. Until next!